JURNAL YAQZHAN: ANALISIS FILSAFAT, AGAMA DAN KEMANUSIAAN
Yaqzhan Journal is a scientific journal that focuses on the publication of research results in philosophical, religious and humanitarian studies in a transformative orientation. The Yaqzhan Journal contains articles that are based on the results of research, conceptual ideas, studies, and application of theory, as well as reviews of transformative and contextual books. This journal is published by Department of Aqeedah and Islamic Philosophy, Faculty of Ushuluddin, Adab and Dakwah, IAIN Syekh Nurjati Cirebon. The journal is published regularly twice a year, July and December. 
Jurnal Yaqzhan: Analisis Filsafat, Agama dan Kemanusiaan has been accredited SINTA 4 at November 11th, 2019 by Indonesia Ministry of Research, Technology and Higher Education (RistekDikti) of The Republic of Indonesia as an academic journal in Director Decree (SK Dirjen No. 30/E/KPT/2019) and effective until 2023
P-ISSN: 2407-7208 E-ISSN: 2528-5890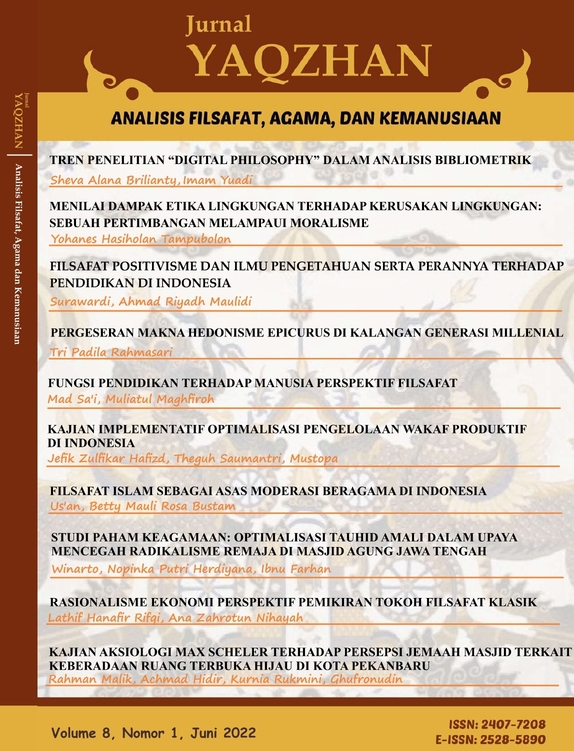 Announcements
No announcements have been published.
Vol 8, No 2 (2022)
Table of Contents
ARTICLES