Al-Tarbawi Al-Haditsah is a journal published by Syekh Nurjati State Islamic Institute and managed by the Faculty of Tarbiyah. Al-Tarbawi Al-Haditsah only publishes original papers (no plagiarism) of literature and field research related  on Islamic education that implements a holistic education. It is called holistic education because everything which student sees, hears, and perceives is education. The education system is not only implemented in the classroom but also outside the classroom. The Al-Tarbawi Al-Haditsah Journal focuses on the theme and topic of education, including: Mental, Character and Moral education,  Approaches, Strategies, methods and education technology, and Design and Development of curriculum.
Al-Tarbawi Al-Haditsah published by Faculty of Tarbiyah, Syekh Nurjati State Islamic University, Indonesia. It is semiannual journal published in June and December for the developing the scientific ethos. We accept submission from all over the world. Our Editorial Team and Reviewers members are active international researchers in islamic education who ensure efficient, fair, and constructive peer-review process. All accepted articles will be published without payment of an article-processing charge, and will be freely available to all readers with worldwide visibility and coverage. The submitted manuscript would be check for plagiarism using by Plagiarism Checker X with maximum tolerance 20 percent.
Al-Tarbawi Al-Haditsah: The Islamic Education Journal has been accredited by SINTA 4 on 11 November 2019 by the Ministry of Research, Technology and Higher Education (RistekDikti) of the Republic of Indonesia as a scientific journal in the Director's Decree (SK Dirjen No. 36 / E / KPT / 2019) and Certified and valid until 2024.
Al-Tarbawi Al-Haditsah has been indexed/registered in  Sinta, Moraref,  Garuda, and Google Scholar.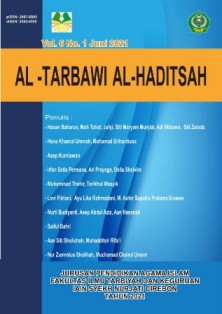 Vol 7, No 2 (2022): Pendidikan Agama Islam
Table of Contents
Articles